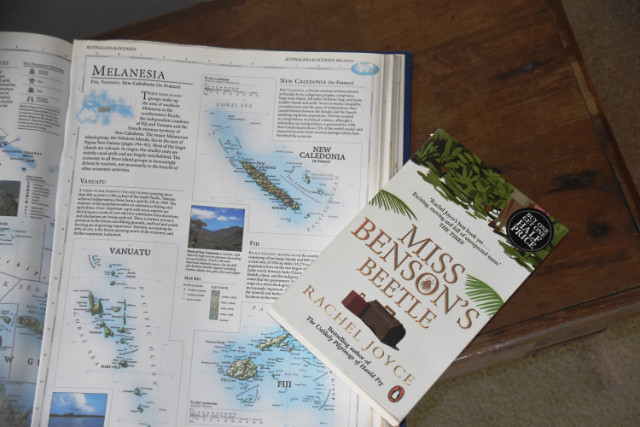 I had just finished reading 'The Passenger' by Ulrich Alexander Boschwitz, a novel first published in 1938, which told one man's story of trying to evade capture by the Nazis who were burning synagogues, rounding up Jews and destroying their businesses. Although the novel has a key place in history as it reveals the spine-chilling truth, that persecution of the Jews had already been happening long before WWII broke out, I found it repetitive and laborious to read. When I finally finished it and stopped guffawing at the Financial Times cover quote of 'Vibrating with fury…a highly accomplished work, filled with vivid characterisation, sharp dialogue and intensely observed scenes,' Jack suggested I read Miss Benson's Beetle as an antidote.
So, I did. And it was.
Like a fresh breeze blowing through the damp humidity of a tropical rainforest, Margery Benson and Enid Pretty lifted my spirits and replaced the dark, dank gloom with vibrancy and light.
Who doesn't want to keep reading a novel whose opening line is: When Margery was ten, she fell in love with a beetle?
This was 1914 and the beetle in question was the Golden Beetle of New Caledonia which no-one was sure even existed as no-one had ever caught one and officially catalogued it. When her father showed her a picture of the perfect, gold-coloured beetle in his Incredible Creatures book, she resolved to try to find it. But life got in the way, as life so often does, and we find Margery, 36 years later, teaching domestic science to bored schoolgirls.
One day, she discovers a drawing the girls are passing around the classroom behind her back. It shows a cruel cartoon drawing of her with the inscription The Virgin Margery, and it flips a switch in Margery's brain. Before she knows what she's doing, she has stolen a new pair of baseball boots from the headmistress, run from the school, and placed an advertisement in The Times for an assistant to accompany her on a trip to New Caledonia.
She is going to find her Golden Beetle.
What ensues is the adventure of a lifetime which takes the reader along for the ride.
Accompanied by the least qualified expedition assistant on the planet in the form of diminutive Enid Pretty, who arrives at Fenchurch Street Station wearing a tight-fitting, pink, two-piece travel suit, tiny sandals with a pompom on the toes, and a perky hat set atop her yellow cloud of hair, Margery's journey takes her to the outer reaches of remote New Caledonia and the inner depths of her soul.
Exceedingly funny, screamingly frustrating, and tearfully emotional, we accompany Margery and Enid as they lurch from one disaster to the next, gasping at Margery's naivety and gradually uncovering the truth behind Enid's eagerness to join the expedition.
It seems Margery isn't the only one on a mission.
With every new chapter and every rich description of the people and places Margery and Enid encounter, I could clearly see Miss Benson's Beetle being adapted as a screenplay and will not be at all surprised if it turns up on Netflix or Amazon in the not-too-distant future. Or perhaps that's just wishful thinking.
Life-affirming, joy-inducing and utterly compelling, I recommend it to you unreservedly.
Thank you, Jack.