"Do you want to come wassailing at the village orchard on Saturday afternoon?"
Our neighbour has his head through the open dining room window, his elbows resting on the sills. It's his habitual communication method, our window being on the direct path to his vehicles and the woodshed. We stare blankly. He grins. He loves it when he baffles us with yet another local tradition. Since we moved in, it's become his favourite hobby.
Wassailing, it seems, is an ancient tradition of visiting orchards to recite incantations to the trees in order to encourage robust new growth and plentiful harvest; making a lot of noise to ward off evil spirits, and drinking cider – lots of it. Unsurprisingly, wassailing is largely practiced in the West Country where the country's major cider production takes place.
"There'll likely be Morris dancers and plenty of cider," our neighbour continues. "Normally they'd fire guns over the tops of the trees but they're not doing that this year, they're just making a lot of noise so bring pots and pans, anything you can find to make a racket. And don't drive, there's no space for parking."
Duly briefed, our first task was to buy some Wellington boots. As our most direct path to the village is across three fields which, at this time of year are largely quagmire, the oft-postponed task of acquiring some new wellies, something I hadn't owned since I was about 7yrs old, had become urgent. A quick trip to the country supplies store in Tiverton and we were sorted.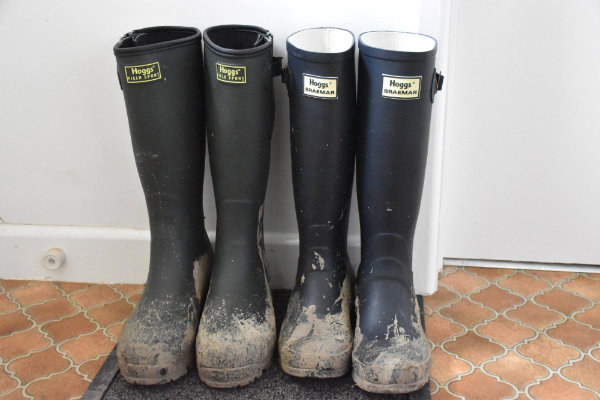 On Saturday afternoon, I packed two small roasting tins with annoyingly noisy handles into my rucksack and we headed off across the fields to the village, my rucksack rattling so much we acquired a retinue of ewes and lambs who presumably thought I sounded like their food dispenser. Our pristine wellies quickly acquired their first layer of mud, slime and sheep excrement as we squelched our way through gates and alongside the stream to reach the road.
Spotting the entrance to the farm whose orchard was the venue for this little event, we slogged up the long, steep drive following a few people we could see walking ahead of us.
"Are you with the band?" Asked a friendly face. I wondered if he'd heard me rattling up the drive.
"No."
"Ah, then you've come to the wrong entrance. The orchard's on the other side of the hill but you can wait here if you like and come down with us."
Members of the band duly arrived and began to tune their instruments before setting off in a small procession, led by a tall man sporting a long black, tattered and wizard-like coat and a feathered hat. We tagged along at the back and watched the bemused faces of our neighbours as the musical troupe made its way down the hill to the orchard where everyone else was gathered around a large firepit and a small kiosk dispensing cider.
"You went the wrong way then?" The neighbour asked, a big grin across his face. He loves it when we cock up.
A complimentary paper cup of cider was thrust into our hands, and we joined the milling crowd as the band struck up a few tunes apparently associated with wassailing. More cider was bought and consumed, and the band moved into the orchard itself where the feather hat wearing wizard led us all in two traditional songs followed by a toast to cider. On his cue, I removed one of the roasting tins from my rucksack, held it aloft, and joined in the cacophony of noise from the little gathering by rattling it like a very loud and irritating tambourine.
A piece of toast and a splash of cider were then symbolically 'fed' to one of the trees, followed by another prolonged burst of noise. More tunes were played, more cider was consumed, and we spent a very pleasant couple of hours chatting to neighbours and villagers, smoke from the firepit stinging our eyes and clinging to our clothes and hair.
As twilight fell, we headed back over the fields, happy in the knowledge we had made some small contribution to the wellbeing of trees and the continued production of cider.
Happy wassail!