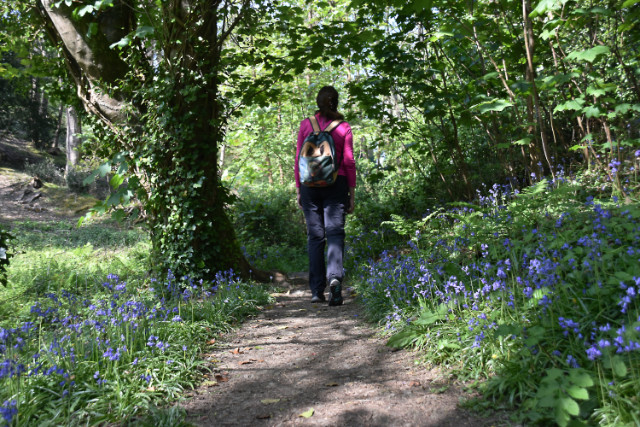 April has been a bit of a blur; it's our own fault, we decided to rediscover the joys of a walking holiday.
The last time we booked a holiday, well, three actually, it was 2020 and we all know how that year of travel went. And this trip was a hangover from that first season of curtailment and disappointment; two BA flight vouchers whose purchase dates back to the wedding of good friends, planned to happen on the Channel Island of Jersey in 2020. The wedding was postponed and we got vouchers back from British Airways.
Fast forward two and a quarter years and those vouchers were about to expire, so we booked that long-postponed flight and enjoyed a week-long, walking holiday on Jersey.
Although Jack and I help to put walking holidays together for a living, there's a world of difference between walking because it's your job, and choosing to take a walking holiday. To outside observers the difference may be negligible, but to us, it's a whole other experience. Our time is our own, we don't have to stick to pre-planned itineraries, take notes, record routes on a GPS device, and spend our evenings planning for the next day's output.
We may decide to detour off to somewhere intriguing along the way; enjoy a leisurely lunch or a visit to a winery before continuing the route, and joy of joys, go for a beer or two when we finish – all the things we can't do when we're working. We did them all on Jersey.
Since we moved back to the UK last year, we've been exploring the walking routes around where we live and have been delighted to discover myriad routes which take in coastal paths, moorland, rich valleys, dense woodland, and quiet country lanes. Devon and Somerset may not have the drama of walking in The Lake District or the Scottish Highlands, but it does have immeasurable charm and a wealth of cultural treasures tucked away in ancient village churches, half-hidden monuments, and grand houses and gardens.
But, as enjoyable as these outings have been, they don't compare to the joys of a walking holiday, lacing up the hiking shoes day after day and taking to a new trail. To me, it's highly addictive and I'm never happier than when I'm embarking on a new walking adventure.
Just before we left Portugal to relocate here to Devon, Jack and I compiled the notes for a walking holiday on the Camino de Santiago from Tui, on the border with Portugal, to Compostela de Santiago, a journey (for us) of some 200km (around 124 miles) over a period of 10 days.
From being immersed in Galician culture and gastronomy, to setting out every day to discover new pathways, towns, villages and even cities along the way, it was the most memorable experience in more than a decade of putting together walking holidays.
The last time we woke every morning to another day on the trail was almost a year ago, in Brecon, so we were overdue a walking holiday. Jersey couldn't come soon enough for me.
One of the joys of a walking holiday, is feeling how your fitness improves as you go along. For us, the first couple of days can be tiring, especially if we haven't done any significant walking for a long time. And Jersey was no exception. Even though the walking was easy, we could still feel the uphill stretches. But by day 3, our legs were stronger and we pushed ourselves that day, adding a decent return walk to an excellent restaurant in the evening, and notching up some 21km by the time we retired to our room for the night.
By day 5, we didn't want the route to end.
Not lacing up the boots directly after breakfast on the day we were leaving, instilled a feeling of loss and quiet disappointment. On the flight home, all I could think about was how soon we could book our next walking trip.
That's why April has been a blur. As our holiday fell directly after Easter, we had to pack a month's worth of writing deadlines into the first two weeks of the month; 25 travel features in all, including a commissioned article on top tips for your first walking holiday, written for walking holiday specialists, Inntravel, to promote the start of May which is National Walking Month.
And what I'm getting around to saying is…if you've started walking but have never opted to go on a walking holiday, I cannot recommend it highly enough. I genuinely believe that, once you've discovered the joys of a walking holiday, a week lying by the hotel pool will never have the same appeal again.