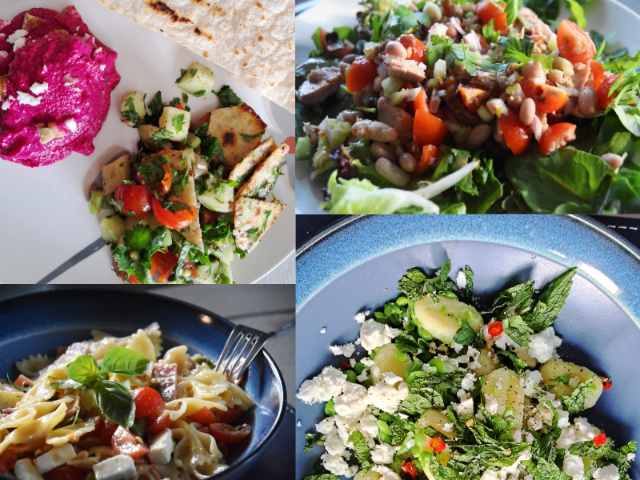 As July brings heatwaves and long, summer days, we've been diving into our repertoire of salads, and every time I make one, I think about people's perceptions of what constitutes a salad.
I know that, in the grand scheme of things (Tory leadership election, heatwave, war in Ukraine…) this is not a question that is going to vex the minds of serious thinkers. It's trivial nonsense. But as roads and temperature records melt, and TV companies attempt (unsuccessfully) to fry eggs on pavements, it somehow feels appropriate.
"That's not a salad!" Said our friend, as we placed a bowl of fried halloumi and couscous before her. "It's called Summer Couscous Salad", we retorted.
She scoffed, before tucking in. "That was delicious…" she declared as she scraped the bowl, "…but it wasn't a salad."
My childhood salad days
As a child, one Sunday a year, our family drove from our home in South Manchester, to visit our cousins in Leicester. We would have sandwiches when we arrived and later, around 4pm, Aunty Annie would serve a salad. Our plates would be neatly laid out with a slice of cold meat accompanied by lettuce, sliced tomatoes, hard-boiled egg, and cucumber. No dressing, no coleslaw, just a slice of white bread and butter for anyone who was still hungry.
I hated those salads.
The Cambridge Dictionary defines a salad as:
…a mixture of uncooked vegetables, usually including lettuce, eaten either as a separate dish or with other food.
They would have loved Aunty Annie's salads.
But where does that leave Greek salad, fruit salad, seafood salad, pasta salad, rice salad… need I go on?
The Great British Chefs website has 236 recipes under the label 'salad', and they include creations centred around ingredients that range from beetroot to Thai beef. There is absolutely no compunction to include only cold ingredients and no restrictions on the inclusion, or exclusion of lettuce.
What constitutes a salad in our house
As far as we're concerned, anything can be called a salad if it results in a light, tasty dish. Sometimes our salads are on beds of lettuce and rocket, sometimes ingredients are tossed within salad leaves, and sometimes there isn't a shred of lettuce on the plate. The only rules are that it must be light, and it absolutely has to taste delicious.
If you're like us, you'll love Summer Couscous Salad, and if it offends your salad principles, you can just call it Summer Couscous.