When Jack and I returned from a jaunt to Scotland and the Lake District with Covid, I lost my appetite entirely for around three days, and my sense of taste for about 2 weeks. As a result of that, I needed to eat food with maximum flavour. We found this recipe for Chipotle Black Bean & Pork Bowl in a Waitrose Weekend paper last October and it instantly went into our favourites file.
As you work your way through the layers, the flavour intensifies, as does the heat, depending on how much chipotle paste you add. We tend to add more than the recipe suggests but it's really a matter of trial and error to find what suits you best.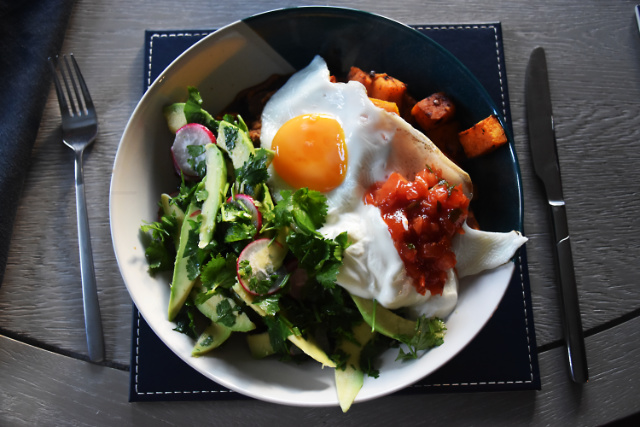 Chipotle Black Bean & Pork Bowl
Serves 4
Cooking time 35mins
Preparation 10mins
Ingredients:
500g frozen butternut vine squash
3 tbsp sunflower oil
2-3 chipotle paste
2 fresh bay leaves
1 tsp cumin seeds
6 cloves garlic, sliced
2 x 400g cans black beans
100g radishes, sliced
2 perfectly ripe avocados, peeled, stoned & sliced
Juice of 1 lime
25g coriander, roughly chopped
500g lean pork mince
4 medium eggs
3-4 tbsp red pepper & tomato salsa (or any spicy salsa)
soured cream
Method
1. Preheat the oven to 200°C/gas mark 6. On a baking tray, toss the butternut squash with 1 tbsp oil and ½ tsp chipotle paste, then season. Roast for 30mins, stirring occasionally, until golden and tender.
2. Heat 1 tsp oil in a frying pan, add the bay leaves, cumin, garlic & 1-2 tsp chipotle paste (more if you want more intense flavour). Fry gently until the garlic is soft. Stir in the black beans and their liquid. Season, and simmer for 15-20mins until the sauce thickens.
3. In a bowl, lightly mix together the radish, avocado and lime juice. Season and stir in most of the coriander.
4. In another frying plan, heat the remaining oil and, once hot, add the remaining chipotle paste and the pork mince. Season and fry for 10mins or until brown and crisping, cooked through, juices running clear and no pink meat. Remove to a plate.
5. Return the pan to the heat, adding a little more oil if needed. Once hot, crack in the eggs and fry until the bottoms are crisp and the whites are opaque.
6. To serve, divide the beans between shallow bowls and top with some mince, then squash, avocado salad, eggs, salsa, and a spoonful of soured cream. Sprinkle with the remaining coriander and serve.